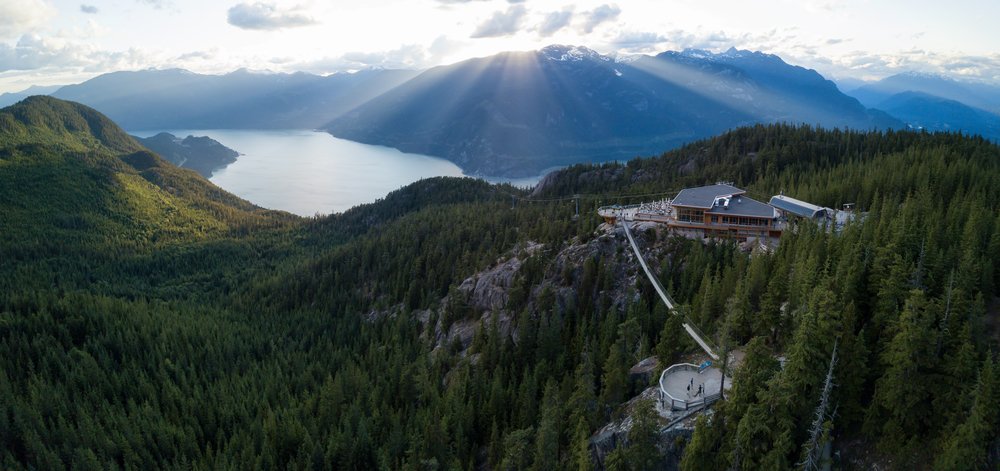 The Sunshine Coast encompasses wonderful communities – Powell River, Sechelt, Gibsons, Roberts Creek, Egmont, Earls Cove, Langdale, Texada Island, Pender Harbour and Ruby Lake. You will find wonderful oceanview and seaside vacation accommodations and rentals to meet your holiday requirements.
Just a half hour ferry ride out of Horseshoe Bay, Vancouver BC, the Sunshine Coast is on a peninsula separated from Vancouver/Squamish by Howe Sound.
You only pay one-way on BC Ferries to visit the Sunshine Coast (no fare charged going off the lower Sunshine Coast).The very fortunately placed Sunshine Coast, tucked down below towering mountains that catch the storms & rain; creates a dry sunny belt of land- a "Sunshine Coast" by a gentle sea.
AccommodationsBC can help you find the perfect vacation accommodation, from Bed and Breakfasts, Hotels, Motels, Guest Ranches, Cabins, Cottages, Resorts, Inns, Suites, Vacation Rental Homes, RV Parks and Camping, on the Sunshine Coast The including the cities of Gibons, Sechelt, Pender Harbour, Egmont, Earls Cove, Langdale, Powell River, and Ruby Lake on the Sunshine Coast in British Columbia.
Sunshine Coast Hotels
Address: 5528 Inlet Ave, Sechelt, BC V0N 3A3, Canada
Location: Sunshine Coast
Lodging Type: Hotel
Phone Number: 604-885-9314
Website: http://www.cozycourt.com/
Address: 6451 Sechelt Inlet Rd, Sechelt, BC V0N 3A4, Canada
Location: Sunshine Coast
Lodging Type: Hotel
Phone Number: NA
Website: http://www.env.gov.bc.ca/bcparks/explore/parkpgs/porpoise/
Address: 5758 Wharf Rd, Sechelt, BC V0N 3A0, Canada
Location: Sunshine Coast
Lodging Type: Hotel
Phone Number: 604-885-7844
Website: http://royalreachmotelmarinasechelt.online/
Address: 679 N Rd, Gibsons, BC V0N 1V9, Canada
Location: Sunshine Coast
Lodging Type: Hotel
Phone Number: 604-886-3321
Website: http://www.sunshinelodge.ca/
Address: 835 Gibsons Way, Gibsons, BC V0N 1V8, Canada
Location: Sunshine Coast
Lodging Type: Hotel
Phone Number: 604-886-2419
Website: https://www.sunnycrestmotel.com/
Address: Redrooffs Rd, Halfmoon Bay, BC V0N 1Y2, Canada
Location: Sunshine Coast
Lodging Type: Hotel
Phone Number: 604-885-3714
Website: http://www.env.gov.bc.ca/bcparks/explore/parkpgs/sargeant
Address: Pender Harbour Resort & Marina
Location: Sunshine Coast
Lodging Type: Hotel
Phone Number: 877-883-2424
Website: http://www.phrm.ca/
Address: 963 Gibsons Way, Gibsons, BC V0N 1V8, Canada
Location: Sunshine Coast
Lodging Type: Hotel
Phone Number: 604-886-4638
Website: http://www.gibsonsgardenhotel.com/
Address: 7655 Eureka Ave, Halfmoon Bay, BC V0N 1Y1, Canada
Location: Sunshine Coast
Lodging Type: Hotel
Phone Number: 866-885-5569
Website: http://nestledown.ca/
Address: 5402 Donley Drive, Halfmoon Bay, BC V0N 1Y2, Canada
Location: Sunshine Coast
Lodging Type: Hotel
Phone Number: 866-893-2400
Website: http://www.burchillsbandb.com/
Address: 6840 Sunshine Coast Hwy, Sechelt, BC V0N 3A8, Canada
Location: Sunshine Coast
Lodging Type: Hotel
Phone Number: 778-458-2258
Website: https://www.treetopbnb.com/
Address: 7747 Kenyon Rd, Halfmoon Bay, BC V0N 1Y1, Canada
Location: Sunshine Coast
Lodging Type: Hotel
Phone Number: 604-885-7735
Website: http://www.pointhouse.ca/
Address: 6040 Sechelt Inlet Rd, Sechelt, BC V0N 3A3, Canada
Location: Sunshine Coast
Lodging Type: Hotel
Phone Number: 604-885-7444
Website: https://www.baysidecampground.ca/
Address: Halfmoon Bay, BC V0N 1Y0, Canada
Location: Sunshine Coast
Lodging Type: Hotel
Phone Number: 604-885-3714
Website: http://www.env.gov.bc.ca/bcparks/explore/parkpgs/smuggler/
Address: 5528 Inlet Ave, Sechelt, BC V0N 3A3, Canada
Location: Sunshine Coast
Lodging Type: Hotel
Phone Number: 604-885-9314
Website: http://www.cozycourt.com/
Address: 5758 Wharf Rd, Sechelt, BC V0N 3A0, Canada
Location: Sunshine Coast
Lodging Type: Hotel
Phone Number: 604-885-7844
Website: http://royalreachmotelmarinasechelt.online/
Address: 9752 Secret Rd, Halfmoon Bay, BC V0N 1Y2, Canada
Location: Sunshine Coast
Lodging Type: Hotel
Phone Number: 604-989-3940
Website: http://secretcovetreehouse.com/
Address: 5454 Trail Ave, Sechelt, BC V0N 3A0, Canada
Location: Sunshine Coast
Lodging Type: Hotel
Phone Number: 604-885-5811
Website: http://www.driftwoodmotorinn.com/
Address: 5356 Oles Cove Rd, Halfmoon Bay, BC V0N 1Y2, Canada
Location: Sunshine Coast
Lodging Type: Hotel
Phone Number: 877-296-4593
Website: http://rockwatersecretcoveresort.com/
Address: 5546 Riley Rd, Halfmoon Bay, BC V0N 1Y2, Canada
Location: Sunshine Coast
Lodging Type: Hotel
Phone Number: 604-740-3960
Website: http://www.secretcovecottage.ca/
Address: 5005 Sunshine Coast Hwy, Sechelt, BC V0N 3A2, Canada
Location: Sunshine Coast
Lodging Type: Hotel
Phone Number: 604-741-0771
Website: http://www.beachsidebythebay.com/