For Yaletown residents, the opening of the Smithe and Richards park has become a bit of a running joke.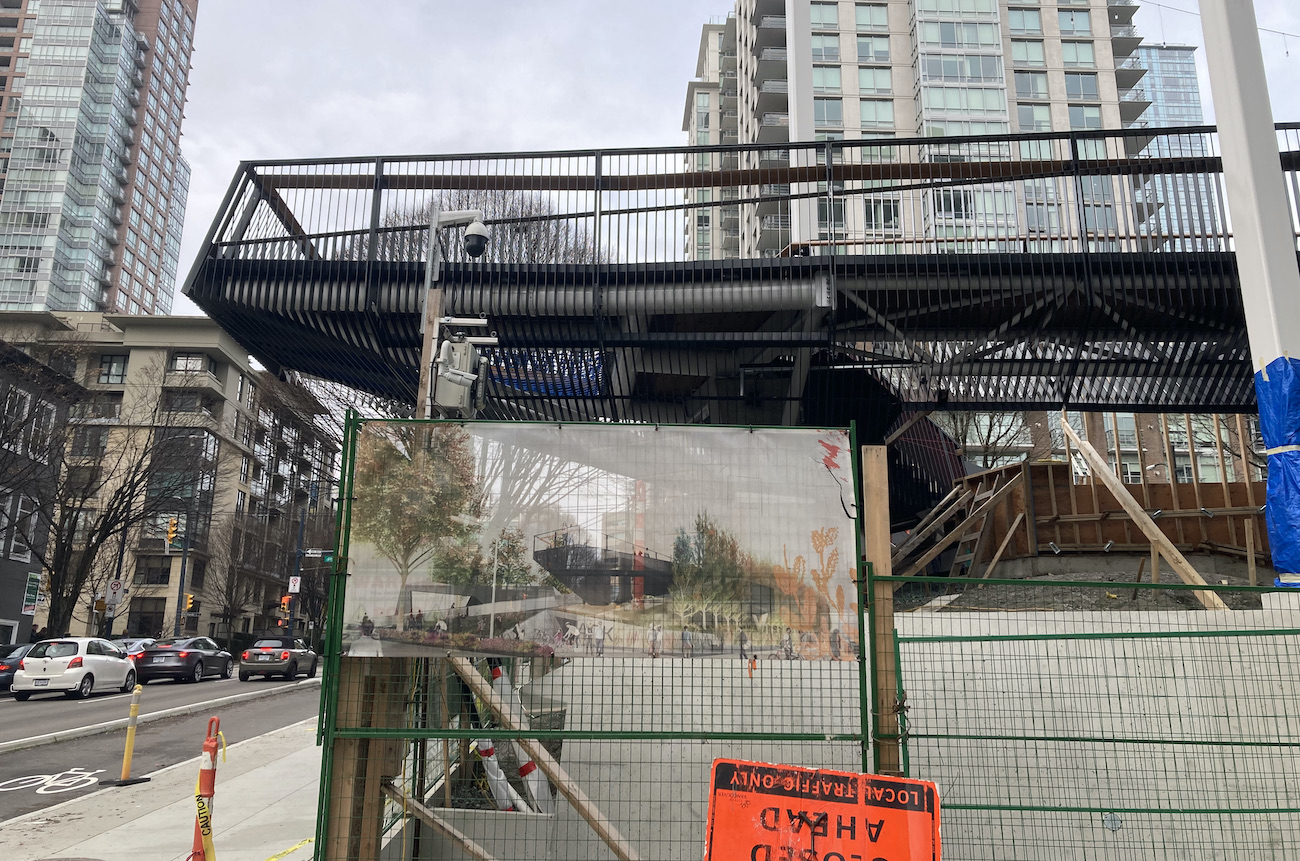 As of early 2022, weather-beaten signs along the construction zone permitter alternately claim 2019, 2020, and 2021 as opening dates. Construction workers I've asked outside the work area are equally reluctant to quote a completion time, other than "sometime in 2022."
The city website also makes vague claims about a 2022 opening, stating that "despite significant delays" the park is making progress and will open this year.
After a long pause over the holidays, I've seen construction ongoing in January of 2022. Some days the site is full with a dozen or so workers, although other days it seems like there are only a couple when I walk by. Most work seems to be happening on the indoor sections of the park and the open gap between the park and the street at this point.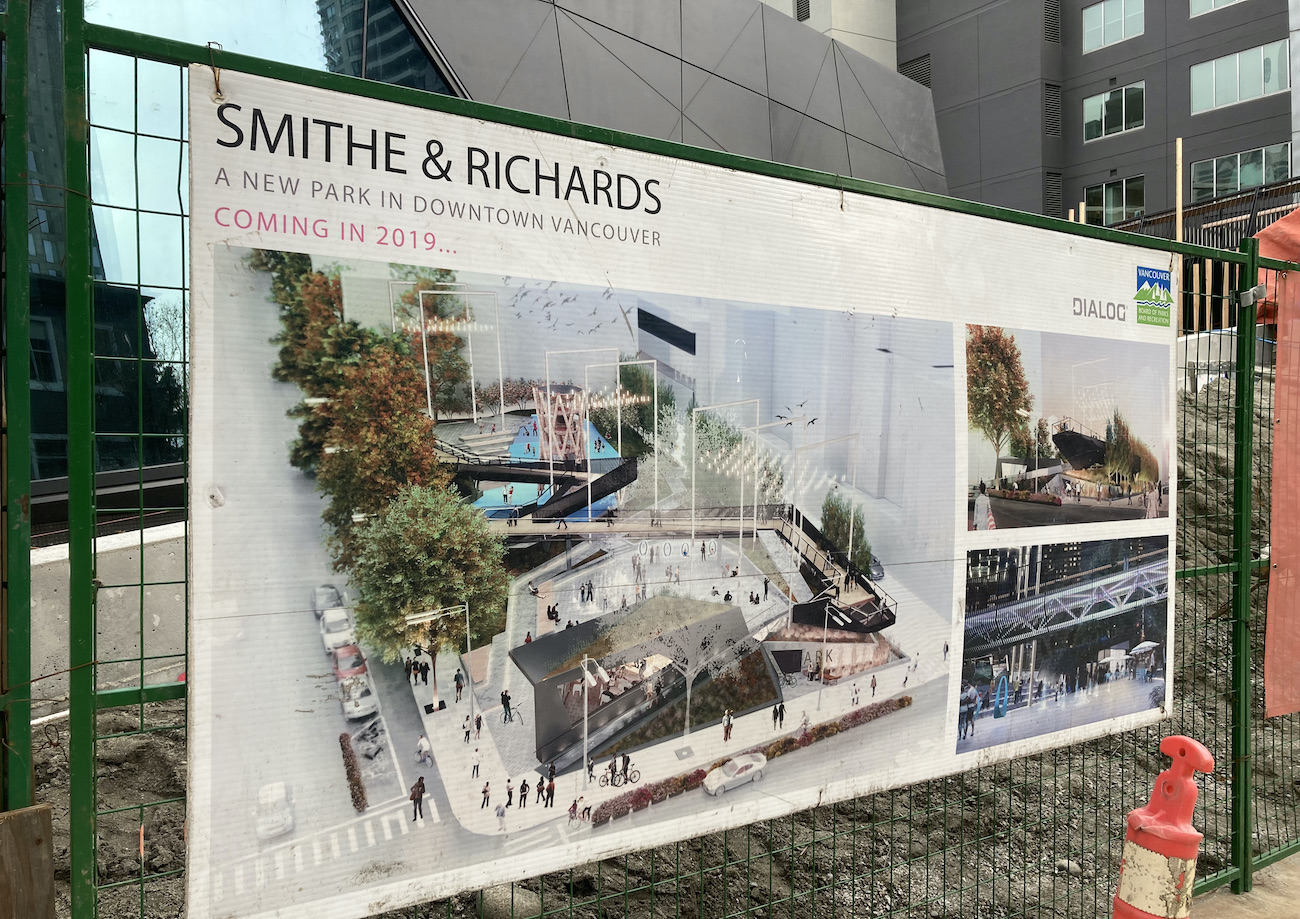 As of the end of 2019, the site was still more or less and empty lot.
2020 was seeing good progress until Covid came through and put the whole project on pause for the better part of a year.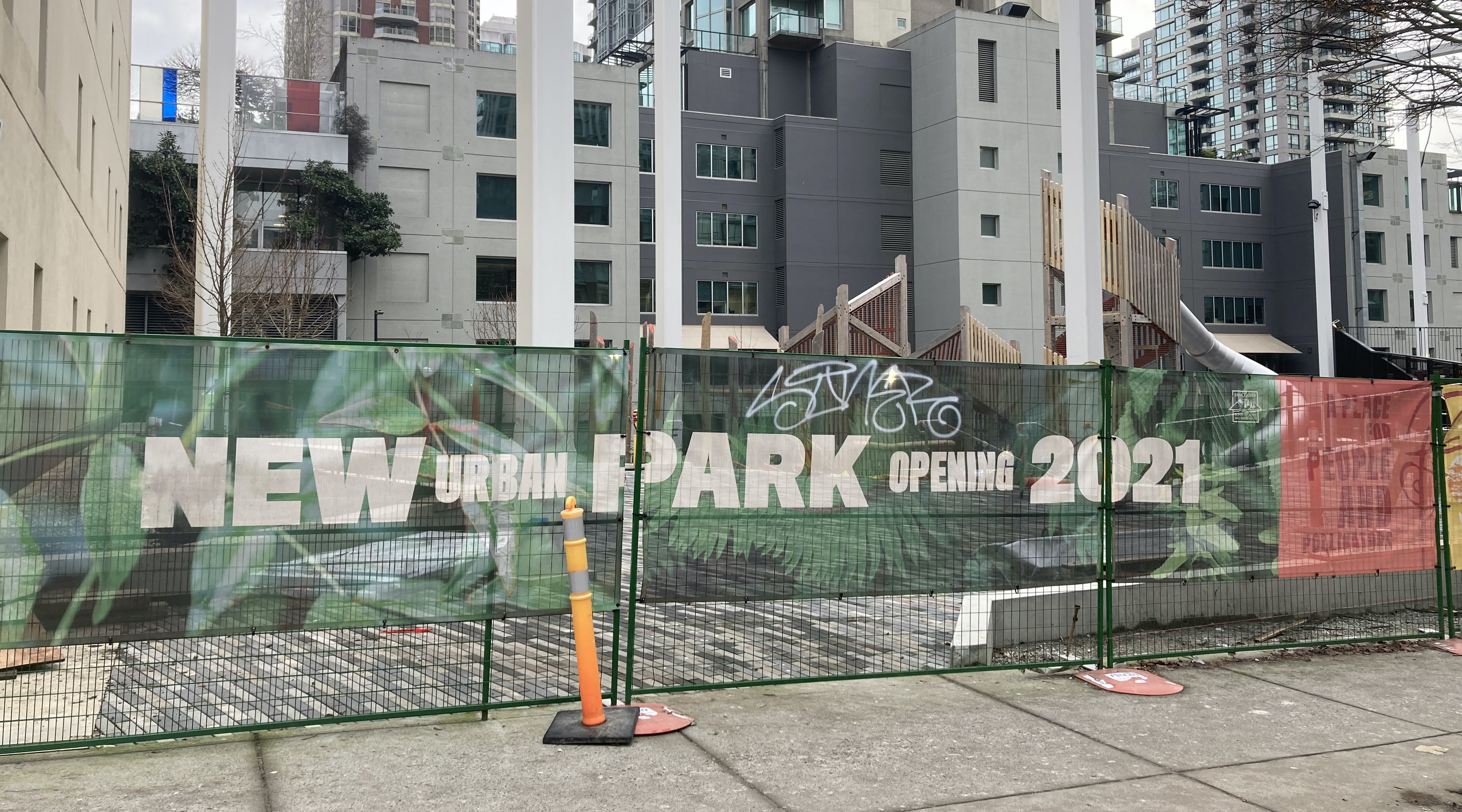 Smithe and Richards Park features and placement
In 2021, we've finally seen the skyframes and other defining features go up. The overlook on Smithe street is also completed, and to be fair it looks like it'll be a joy to use once it finally opens.
The playground is also complete, although geared towards older children with rope and climbing structures. The equipment looks a bit less enticing for toddlers, particularly since there is not yet a swing set.
The onsite cafe, however, should help make up for that with coffee options for tired parents. The city claims the cafe will help discourage issues with misuse of parks seen at some less heavily trafficked parkes, such as the Yaletown park — which is frankly not useable for children.
At the $14 Million price point the park cost, it had certainly better!
However, due to the stairs and height variations, adult supervision will be advised.
For those of us with small kids in Downtown, the opening can't come soon enough. Emery Barnes is commonly over-run with daycare groups and only has one swing for infants and toddlers. There's often a queue even on rainy days.
Coopers park isn't much better off, in terms of use relative to equipment available.
Smithe and Richards will also be the only park downtown to feature public washrooms, which is a welcome change since currently the washrooms along the waterfront are the only option for families who don't live nearby enough to go home for bathroom needs.